Collaboration solutions to power your team.
Cloud-based shared workspace solutions take everyone in your organization to the next level with greater integration of web and video conferencing, telephony, instant messaging, and email.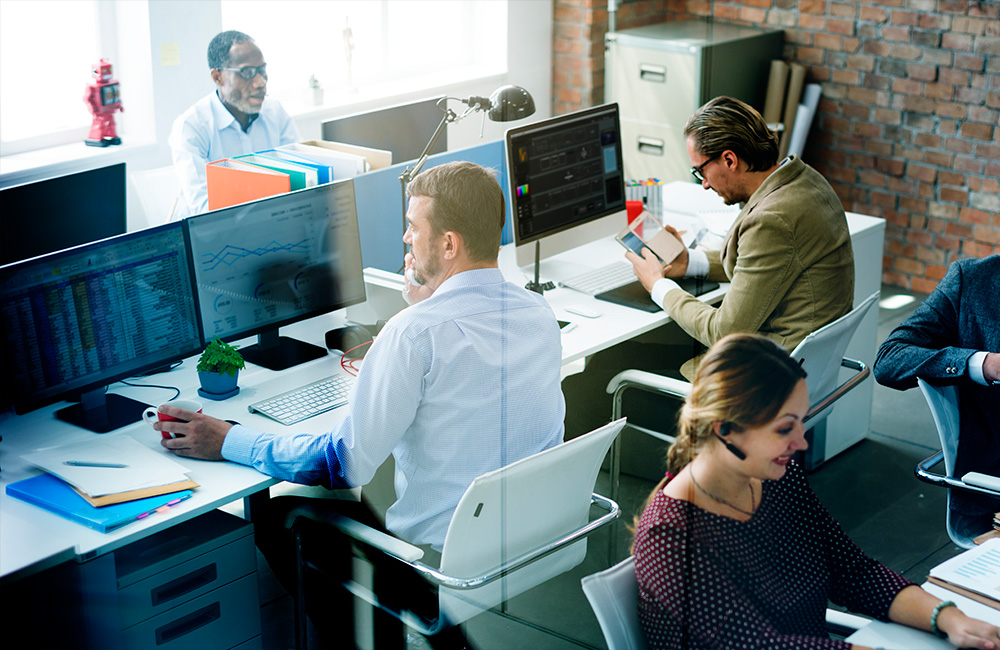 Every collaboration platform and tool can be cyber secure.
Because of our experience, we know that secure collaboration isn't a one-size-fits-all scenario. We can help you find the comprehensive, custom-designed security solution you need at every level of your organization.
Not sure which tool is right for you? Let us help.
Meet Me In The Cloud looks at your current and projected needs and will work with you to decide which collaboration platform is right for your organization. Once selected, we get you off to a fast start and global adoption. You get the maximum benefit from your investment while your team learns that a shared workspace is a pleasure, not a chore.
MICROSOFT TEAMS®
Integration with the Microsoft Suite® and easy API Plugins with 3rd party tools makes Microsoft Teams for companies that already are 0365 users. Microsoft Teams is an excellent solution for large scale deployments.

Integration with other Microsoft products, including OneDrive®, OneNote®, Outlook®, and SharePoint®.
Chat function
Conversations within channels and teams
Audio conferencing
Full telephony
Document storage in SharePoint
Online meetings
Online video calling and screen sharing
SLACK®
Slack connects services, software, and people to work in concert to do their best in a secure, enterprise-grade, and frictionless environment. It's an app built for sharing and communication with ease.

Connect services in your workflow to Slack workspace
Make calls voice or video calls and share screens right from the app.
Organized conversations using Channels
Share files and conversations
Searchable history
WEBEX POWERED BY CISCO®
Cisco Webex products can be combined and customized to your needs from small meetings with screen sharing or video conferencing to global online meetings joined with integrated audio and multiple video systems and personal meeting breakout rooms. Webex products are easy to use from almost any device and platform with compatibility, mobility, and security.

Face-to-face meetings in HD
Meetings can call you
"Meet Now" feature
No dial-in or passcodes
Record meetings including video feeds
Share anything on your screen
ZOOM®
A growing number of businesses, small and large, know Zoom is their choice for various collaboration needs—remote teams, agile scrum meetings, product training, customer support, and more. Our experts can make it work for you, too.

Access chat, phone, and webinars
Built-in screen sharing tools
Built-in recording and transcripts
Calendaring services with Outlook and Google®
HD video and audio calls
Join from anywhere on any device
Secure role-based user permissions
Streamlined team chat for one-on-one messaging and groups
Full technology adoption within 60 days? Yes, we can.
Speed is often essential to ensure that workplace technology tools improve communication, productivity, and a quick return on investment.
As our sole focus in our many years working with a diverse set of clients, we've gained a thorough and practical understanding of what it takes for digital tools to adopt in short timeframes correctly. Our knowledge culmination is Meet Me In The Cloud's Technology Adoption Service, which spurs full adoption to businesses of any size within two months.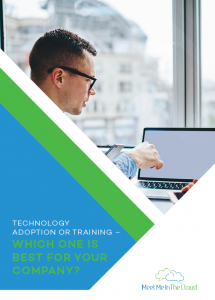 Choosing between technology adoption and training?
Stop wasting time and resources. Find out what your company needs in our short yet comprehensive eBook.
Insights and tech adoption news you can use.
Get information about collaboration software, the future of workspace technology, adoption success stories, and more.
Collaboration tools only have value if everyone on your team uses them. Let's make the most of your technology and optimize your investment.
A proven adoption methodology.