Professional Virtual Event Hosting Services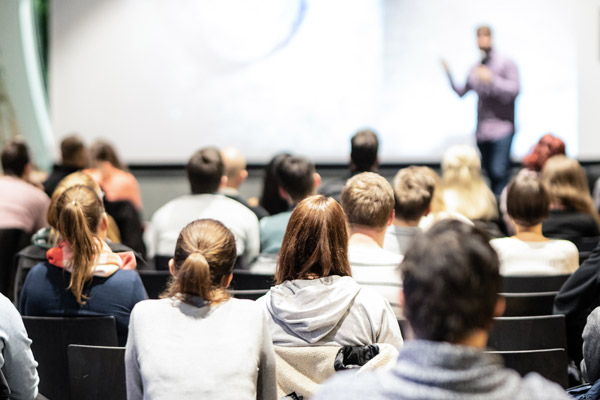 If you're in need of technical support for virtual conferencing and/or event hosting platforms, Meet Me In The Cloud offers professional virtual event hosting services. We help reduce and nearly eliminate the risk of technical hiccups during meetings, online seminars, town halls, and other highly visible virtual events.   
We provide technical hardware and software support for all major video conferencing platforms, including:
Cisco Webex
Zoom 
Microsoft Teams
Adobe Connect
BlueJeans
Webex Events
Meet Me In The Cloud has designed and delivered hundreds of events for higher education, K-12, state and local government, large and small businesses, and non-profit organizations. Our knowledgeable production staff has more than 30 years combined experience in the virtual event industry. We incorporate virtual event hosting best practices to design productions based on your business goals and objectives for the event.
White-Glove Customer Support: Three-Stage Virtual Event Hosting Services
With our white-glove customer support approach, you receive expert support from start to finish. We are with you from event inception to event creation, and through the post event debrief. In addition, a dedicated event producer is available to answer questions and address concerns that may arise along the way.
Our Premium and Premium Plus packages offer virtual event support in three stages: pre-session, in-session, and post-session.
Pre-Session
To plan a successful virtual event, Meet Me In The Cloud begins with a strategy review. We set clear goals and measurable metrics for a successful virtual event. We plan the event with you, review the content to ensure it fits your business objectives, and fully leverage the collaborative platform's capabilities.
We hold rehearsals so speakers can get comfortable with the platform, the content, and engaging with attendees. Our team handles the scheduling and registration and can send customized invitations and reminders. Aside from that, we test compatibility and audio connections and prepare for recording.
In-Session
We'll make sure your online event starts on time and runs smoothly. Our producers are there 30 minutes before the event begins to provide speaker coaching, set up the recording, and ensure all presenters/speakers are able to join.
They can introduce the speakers, moderate chat and Q&A, provide in-session support, and answer technical questions from attendees and presenters. At the end of the virtual event, they can wrap up the event and provide a call to action.
Post-Session
After the virtual event, our producers remain online for up to 30 minutes to debrief. Afterward, we edit the recording to remove pre- and post-session content, resulting in a "clean version" that can be uploaded to your site, with a downloadable link that can be easily shared.
As soon as the attendance reports are pulled, our producers send follow-up emails asking for feedback. These polls give us valuable insight into how the content and delivery are perceived by audiences so that we can improve things. Our team assembles the poll results and transcripts of the Q&A and provides comprehensive reports to the hosts and speakers.
Meet Me In The Cloud can turn your digital collaboration tools into productivity engines. At any point in your collaboration journey, we partner with you to fully adopt your preferred technology tools. Find out how we can help your company with virtual event hosting services. To get started, contact our experts today or call 1-866-221-3221.